Discover and Be Discovered!
Scoopshot is an award-winning crowdsource mobile application for mobile photographers.
With 600 000 scoopers around the world. You've probably heard the phrase – the best camera is the one with you when something interesting happens? Well.. simply put – the idea was just that! Mobile pics or it didn't happen…
Today there are 4 billion mobile phones that have a built-in camera
Approximately 250 million photos are uploaded every day to the internet. Scoopshot offers a way to monetize the photos you think have journalistic value and Scoopshot tries to sell that photo to media outlets around the world from the library of 2 million photos.
The lucky shot
For the average mobile photographer, there are not that many occasions to get that lucky shot that you can make money with. Scoopshot keeps photographers engaged by sending them assignment-based mobile photo tasks to keep them busy using the app.
Always something to photograph
You simply open the app and see if there is something around for you to photograph. Directory services have a constant need for photos, so there is almost always something to photograph. There was even one scooper that made $26,000 by taking photos for a directory company in Finland.
I am a passionate photographer
I take a lot of photos as a hobby, but I also do product photography for my clients professionally. When I heard from my friend Jarno that Scoopshot was looking for a designer, I thought that the position was tailor-made just for me. I joined Scoopshot 2012 as design lead.
My task was to design new features to the existing service for media clients, improve the mobile experience and to create concepts for scoopers to get them engaged in the service. Of course, design a new logo, do print marketing campaigns and all that good stuff… That's a mountain of work actually, but that's the startup life.
Lucky for me, I met one of the most hardworking individuals I have ever met (Jussi) and quickly became close co-workers so I wasn't left completely alone with all of the demanding projects we had.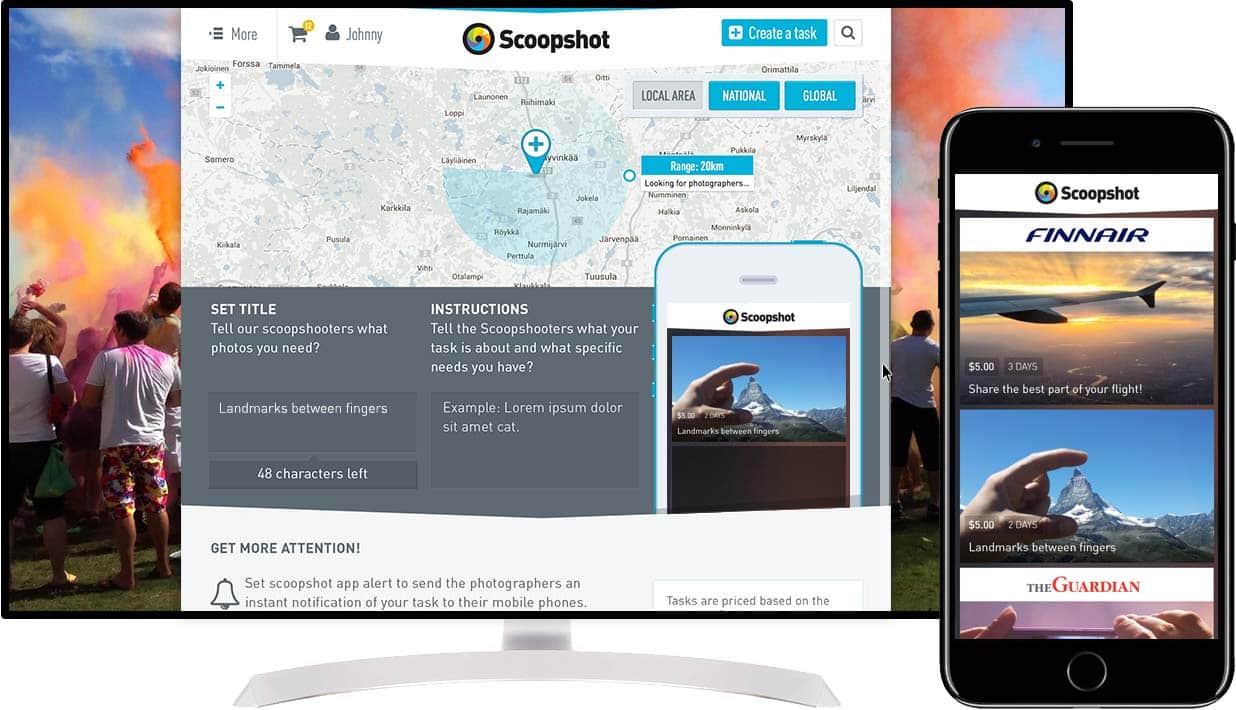 Real Time Photos, for Real Life Needs
After I had become familiar with the Scoopshot ecosystem, I was confident enough to start thinking about new ways to get scoop shooters engaged.
With Jussi, we thought that it would be awesome to let other scoop shooters, agencies, small and medium businesses to create tasks for scoop shooters. I designed some drafts for the team, and with their support, we started building scoopshot 2.0.
Development took half a year to complete and we launched the site late 2013
It was insane how you could create a photo mission and receive photos just a couple of minutes later! Unfortunately, we never saw the full potential of that service.
The new funding came with new ideas…
With the new funding, our investors had other ideas for scoopshot's future, and we didn't develop that service much further. I wasn't excited about what happened, but it was just one feature among others and moderating that feature was something a small startup didn't have resources for at that time and it had to go. (Currently, all competitors have similar models, Foap Missions, Getty Missions, EyeEm Missions, Snapwire on-brand photos etc..)
Final chapter..
I left scoopshot in 2014, but I continued part-time to finalize the last app version. Investors wanted to hire a new UI designer and the guy they found was pretty smart, old school for my liking, but it came with reassuring calmness that was probably needed at that stressful time. I liked the guy and at least I tried to design the app as pretty as I could.
There were some features I really liked, but I would have designed a different style UI that would have made a difference for sure.
Power of Teal
From those two years, I spent at scoopshot I learned more than the previous ten years. I got to meet some really smart people from whom I learned to do things more efficiently and achieve more in less time – with less stress!
Patent
Method and apparatus for providing model release for multimedia data