Smart Aging
Lumo is a device that links its elderly users with their loved ones – friends and family. My client's vision is to adapt elderly people to join the rich social lifestyle we all live in today and to guarantee a good and more secure life in their own homes that they love.
Lumo's technology makes life easier for people suffering from memory loss
They can use pictures of their relatives on the Lumo screen to make video calls between the Lumo and any smartphone – just by touching an image.
When I heard Oulumo's idea, I wondered why this type of device is not already in a market big time. It just makes so much sense! It's not fair for elderly people to not be able to use the technology in a way the younger generation do: to be social with each other.
How many hours a day have you spent on Facebook because you want to know how your friends are doing? Why would that be any different with older people?!
Today almost 1 in 10 people are over 60 years old.
By 2050 1 in 5 people will be over 60.
Design is Everything
When designing an interface for the elderly, there is a mountain of factors that need to be addressed. For instance, between the ages of 60-70 (just 10 years apart) people have a totally different understanding of technology.
60 year old's have probably been using at least a mobile phone of sorts, but most +70 people don't even want to learn how to cope with technology.
Eyesight starts to deteriorate after the '40s, so I'm on board for that myself
When designing an interface for elderly people, 'keep it simple stupid' is way too difficult.. It has to be even simpler than that!
When I got the job, I really didn't know what the hell I was doing. I have a really good understanding of the conventions people use when navigating on mobile, web etc.. and I just had to abandon all of that and think how people who don't know a darn thing about computers would want to use the device.
Designing LESS is often more difficult than just to arrange stuff to be simple to use
I had to study what different types of color blindness really meant and how to avoid some pitfalls there might be etc.. 
Often I was sure that my solution was dead on correct, but had to pull back because it turned out to be just a routine solution from the book. I wasn't in my comfort zone for sure and with a lot of trial and error – we finally got it right!
Oulumo wanted me to create them a brand that combines traditional design language with a bright, positive and forward looking aesthetic of today. Elderly people doesn't see themselves as old and we want them to belong to this day, not a distant past.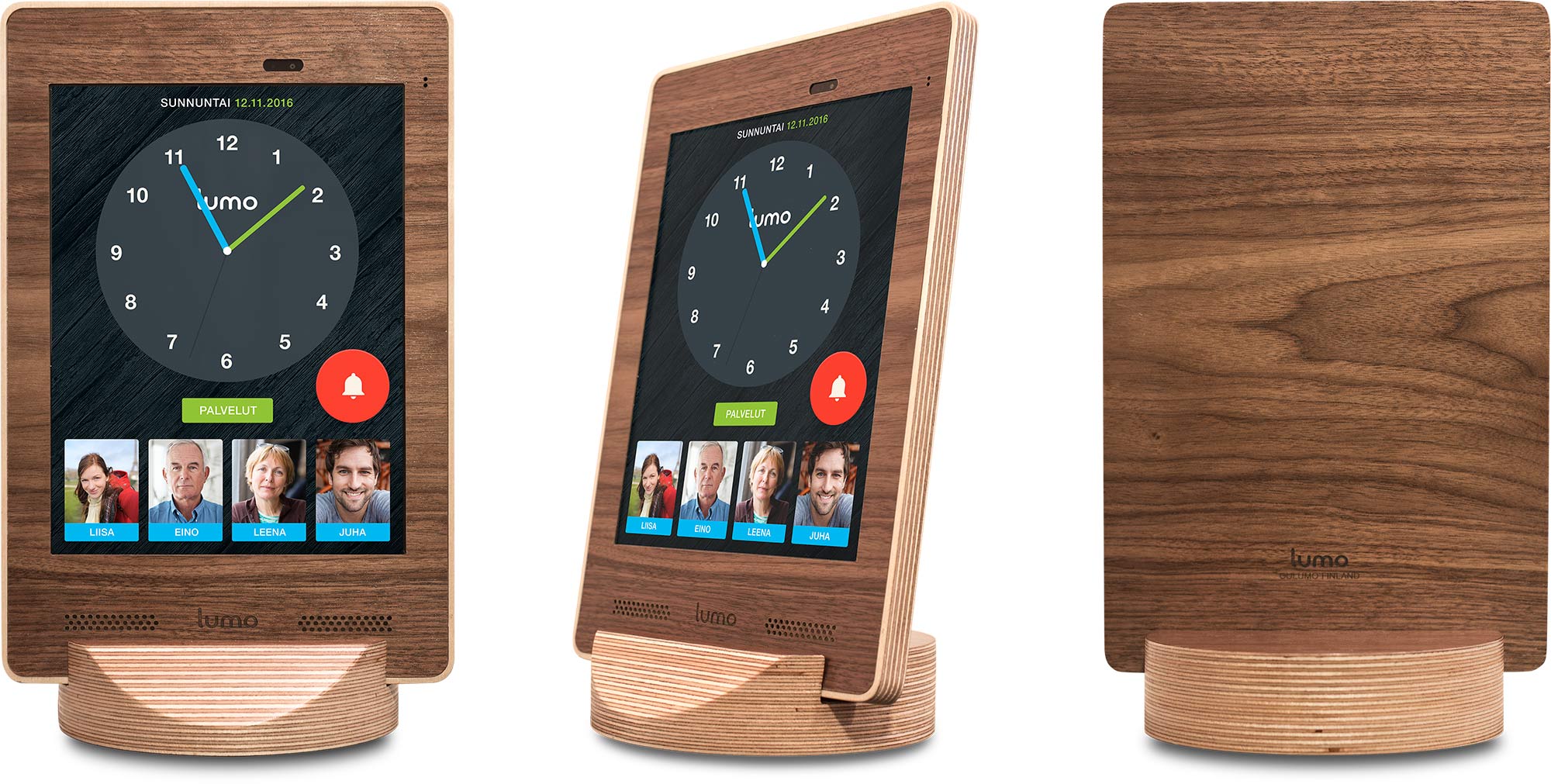 Home use Only
One really cool feature about Lumo is the fact that the device doesn't look like a hospital device. It is a security phone sure, but it doesn't look cold and boring "hi-tech". Lumo blends well to the environment that it's being used in.
Just look at how gorgeous that device looks! What an awesome idea – good job!

Personal Security Alarm
Luna is a companion for the Lumo device, but it can also be used for any type of situation where you need personal security. If you are working alone in a remote location or somewhere you feel you need extra security – Luna can be used.
Luna is an inexpensive, simple and easy to wear device for daily use. Just press a button in your wrist and it calls automatically the people you have selected from the app that comes with it.
My job was to create marketing materials and a mobile app interface for Luna
Both devices have got really good reviews from customers and I really do hope they succeed. I think Lumo is such an important tool to bring elderly people closer to the technologically savvy generation. The world is definitely ready for this!